Apple Crisp
Yield: 9 servings
Serving Size: 1/9th of Crisp
Ingredients:
5 1/2 cups (605 grams) Apples, peeled, cored, and sliced
3/4 cup (125 grams) Strawberries, sliced
1/4 cup (50 grams) Sugar, leveled, unpacked
1 1/2 cup (187 grams) Cambrooke All Purpose Baking Mix, leveled, unpacked
1/2 cup (73 grams) Brown Sugar, leveled, unpacked
1 tsp (3 grams) Cinnamon, ground
1/2 cup (113 grams) Butter, softened, cut into pieces
1/4 tsp or less (1 gram) Salt
---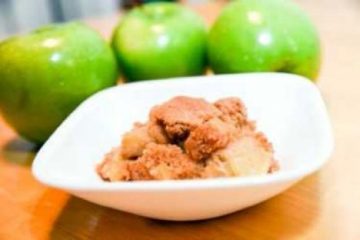 Steps:
Preheat oven to 350 degrees.
Mix apples, strawberries, and white sugar together and spread evenly in the bottom of a greased baking dish. (8 x 8 or slightly larger will work well; 9 x 13 is a bit too big)
Blend baking mix, brown sugar, cinnamon, salt and butter pieces together with a fork or food processor until mixture is crumbly. Spread evenly over apple mixture and press down firmly covering all of the apples.
Bake 30-35 minutes or until top is golden brown.
Nutrition Information for 1/9th of Crisp
Calories: 265
Protein: 0.5 grams
Phenylalanine: 13 mg
Leucine: 26 mg
Tyrosine: 9 mg
MP Recipe Number43685
Analyzed on 09/04/2019 by AP